Bedford, NH Cosmetic Dentistry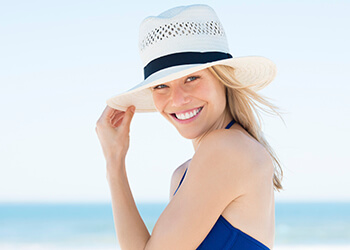 Cosmetic dentistry is not just about making you look great. It's about making patients feel confident in their smiles, and feel their best by maintaining optimal oral health for life. Dr. Persha emphasizes the need for cosmetic consideration when planning preventive and restorative dental care, and our team offers a number of more traditional cosmetic dentistry services to brighten smiles. If you're interested in finding out more about cosmetic dentistry in Bedford, NH, we encourage you to contact our team to schedule a cosmetic consultation today.
Porcelain Veneers
Possibly one of the fastest and most comfortable cosmetic dentistry services, porcelain veneers are used to conceal any number of smile flaws including chips, cracks, stains, gaps, and more in two short visits. A veneer is a thin sheath of dental grade porcelain that is fitted over the fronts of teeth to conceal flaws and leave patients with beautiful smiles. The procedure typically requires two appointments. During the first visit, a minimal amount of enamel is removed from the surface of patients' teeth to accommodate the veneer allowing it to blend seamlessly into the smile. Once teeth are prepared, we capture dental impressions and place temporary veneers to protect prepared teeth. Our dental lab uses the impressions to craft customized veneers, and patients return to our Bedford practice for a second appointment to exchange their temporary for the permanent porcelain veneers. With proper care, this stain resistant porcelain restoration can last for ten or more years.
Cosmetic Bonding
Composite resin fillings have transformed the way we restore decayed, cracked, or chipped teeth, and cosmetic bonding is quickly transforming the way we correct more cosmetic concerns like uneven smile lines, stains, or gaps in teeth with the same tooth-colored resin material. Like composite fillings, cosmetic bonding can be completed in just one visit, so for those patients with less extensive cosmetic concerns, bonding may be a faster, more affordable alternative to porcelain veneers. Unlike veneers, cosmetic bonding is typically reversible if patients find they are unhappy with the appearance of their smiles following bonding. The process is simple. In some cases we may remove a small amount of tooth enamel, but typically, this is unnecessary. We then shade the composite resin to blend with patients' smiles, apply the resin in a malleable state of the tooth, shape it into position, and use a curing light to harden it in place instantly creating a flawless smile.
Metal-Free Restorations
All-ceramic, metal-free restorations blur the line between cosmetic and restorative dentistry. Unlike other restorative materials, all-ceramic crowns, inlays, onlays, and bridges are crafted from a single block of dental-grade ceramic for a flawless appearance that blends perfectly into the natural smile line even as the ceramic is worn down over time making all-ceramic restorations long lasting. Additionally, because these restorations are crafted from a single block of ceramic, they are less likely to chip or crack over time.
In-Practice & At-Home Whitening
Teeth whitening is our most frequently requested cosmetic service, and it's no surprise considering the foods and drinks we consume daily and the simple process of aging are the cause of most dental discoloration. While over the counter whitening products are abundant, they typically cannot deliver the dramatic results they promise. We offer both in-office ant at-home professional grade whitening that brightens smiles up to ten shades over the course of treatment.
Gum Recontouring & Crown Lengthening
For smiles that appear "gummy" or patients with uneven or excessive gum tissue, cosmetic gum recontouring allows our team to reshape patients' smiles quickly and effectively for more even looking smiles. Additionally, recontouring may be necessary prior to placing a dental crown. Often referred to as crown lengthening, this procedure is performed to expose more dental structure to support a crown placed on a specific tooth, but often, it's necessary to continue the process on surrounding teeth to ensure patients' smiles retain their beautiful appearance.