Bedford Crown & Bridge Dental Restoration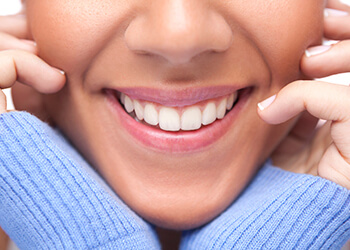 Dental crowns are some of the most common restorations used by the team at Bedford Cosmetic and Restorative Dentistry. Dental crowns are recommended for the repair of a number of oral health issues including severe decay, dental trauma, the protection of root canal treated teeth, and as part of single tooth implant and fixed bridge tooth replacement. Regardless of the reason for dental crown treatment, the process is the same. Patients should expect to visit our office at least two times to complete the process. During the first visit, the damaged tooth is prepared. We remove a small amount of damaged structure and capture dental impressions. The impressions are sent to a ceramics lab where a custom crown is crafted. In the meantime, we place a temporary crown to protect the prepared tooth or teeth. Once the custom restoration is returned, patients exchange the temporary for the final solution for a natural, beautiful smile.
Fixed bridges use dental crowns placed over healthy teeth to support replacement teeth. Dental crowns are sometimes able to support as many as three consecutive prosthetic teeth. The entire crown and bridge restoration is crafted and placed as a single unit, and the process is similar to the placement of a single crown requiring at least two visits one for preparation and one for placement.
Dental crowns and fixed bridges may also be attached to implant posts to replace one or more teeth from the roots up. Contact our team to find out more about dental crown and fixed bridge restorations or to schedule an appointment with our Bedford, NH dentist and team.