Dental Implant Tooth Replacement in Bedford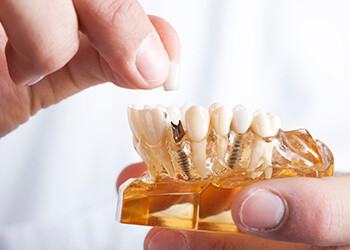 For years, dentists have relied upon tooth replacement solutions that restore only the visible portions of teeth leaving the underlying root structure unrepaired. While keeping teeth from shifting and renewing the overall appearance of smiles, these tooth replacement options are unable to provide adequate jawbone stimulation which may lead to significant diminishment of bone density or additional tooth loss over time. Dental implant supported tooth replacement options restore both the bite and roots of teeth for a natural looking and feeling smile. Contact the team at Bedford Cosmetic & Restorative Dentistry to find out more about this dental restoration solution or schedule your implant consultation.
Implant Placement
The first step in the dental implant process is the placement of implant posts below the gum line. This minor surgical procedure requires patients be healthy enough for moderately invasive medical treatment and have adequate healthy jawbone structure to support the implant post. The process is simple. A small incision is made in the gum line where the post is to be placed. Then, the post is positioned into the jawbone where it fuses with the underlying alveolar bone and supportive gum tissue to mimic natural dental roots.
Implant-Retained Crowns & Bridges
Once the implant has fused with the jawbone, they are versatile enough to support any type of dental restorations. For patients missing a single tooth, implant-retained dental crowns allow our team to replace the lost tooth without damaging healthy surrounding teeth as is necessary for traditional crown and bridge tooth replacement. For those patients missing several consecutive teeth, we may recommend an implant supported fixed bridge. Like traditional crown and bridge tooth replacement, these prosthetics are crafted as a single unit and typically require one implant for every one to two missing teeth and two dental implants to anchor a three or four tooth bridge.
Implant-Retained Prosthetics
For those patients with more extensive tooth loss, implant-retained partial and full dentures may be the best solution. Like traditional dentures, these prosthetics are crafted by placing a number of replacement teeth into a gum colored base. However, rather than being supported by metal clasps, suction, or denture adhesive, these prosthetics are anchored into position by a series of strategically positioned dental implant posts. Depending on patient comfort and preference, we offer both fixed and removable implant supported prosthetics.
All-on-4 and Teeth-in-a-Day
Many patients who are interested in dental implant supported restorations are either unwilling or unable to devote the extensive treatment, healing, and restoration time necessary to complete the process. All-on-4 or Teeth-in-a-Day are an exceptional alternative to more traditional implant supported tooth replacement because they maximize existing jawbone density in order to place dental implants and attach prosthetics in a single day. This solution is not right for every patient, but if Dr. Persha determines this is the best option to renew your smile, we can begin treatment right away.