Alternative Orthodontic Options for Bedford Residents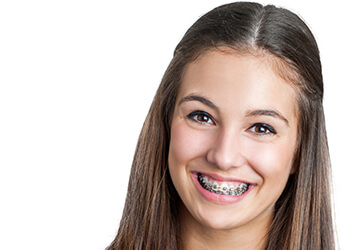 Traditional bracket and wire orthodontic treatments are not for everyone. At Bedford Cosmetic and Restorative Dentistry, we offer cosmetically superior alternative orthodontic treatments including Invisalign and SmartMoves. In the past, orthodontic care was traditionally, offered to adolescents and teens, but as more adults seek to correct their smile alignment, it becomes more important than ever for dental practices to accommodate patients with busy schedules and cosmetic concerns. If you're interested in finding out more about alternative orthodontic solutions at our Bedford, NH practice or you're ready schedule an orthodontic consultation, don't hesitate to contact our knowledgeable team today.
Invisalign®
One of the most popular alternative orthodontic treatments available for our patients is Invisalign. As the materials and techniques used have advanced, Invisalign is now able to provide correction on par with traditional bracket and wire braces without the distinguishable mouth full of metal. The system is simple. Patients wear a set of custom crafted alignment trays that represent a step closer to their ideal smile for about two weeks. Over that time, the aligners place consistent pressure on teeth gently shifting them into this new position. At the end of the pre-determined wear time, patients exchange their alignment trays for the next set in the series. The entire treatment process typically takes between 10 and 18 months, and patients do not need to visit our office as frequently for checkups saving them significant amounts of time compared with traditional bracket and wire braces. In addition to saving time, Invisalign aligners are completely removable. That means patients don't need to worry about making changes to their oral hygiene routines or diets. Simply remove the trays during meals and while brushing and flossing. Invisalign orthodontics are able to correct most tooth positioning concerns as well as offering moderate bite realignment for those who have over, under, or crossbite.