Smile Restoration in Bedford, NH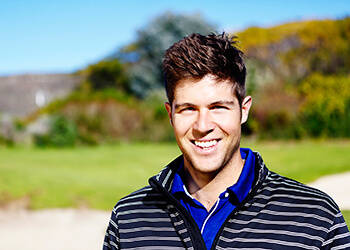 At Bedford Cosmetic and Restorative Dentistry, we work hard to help patients keep their natural smiles whole and healthy, but we know that this is not always possible. Patients who have damaged or decayed teeth can trust their smile repair to Dr. Persha. He has years of training and experience performing complex restorative treatments including traditional crown and bridge, root canals, and more. If you're in need of dental restoration, contact our team to schedule an appointment today.
Tooth Colored Fillings and Direct Bonding
In the past, amalgam fillings were the standard in repair for decayed teeth. While amalgam fillings are crafted from durable materials, the metals expand and contract with changes in temperature causing potential damage to remaining dental structure. Additionally, because the amalgam is held in place with a layer of dental cement, more dental structure needs to be removed to accommodate the filling, and over time, the cement may breakdown leading to additional decay. Tooth colored, composite resin fillings offer cosmetically and restoratively superior results. The composite resin is applied directly to the prepared teeth, shaped into position, and hardened in place with a curing light. The material does not expand and contract with temperature changes and because it is applied directly to the tooth, less healthy structure is removed and there is a reduced chance of future decay or breaking away of the restoration. Composite resin is sometimes referred to as direct bonding and in addition to being used to repair decayed, cracked, or chipped teeth, they can also be used to conceal staining and discoloration and fill gaps in teeth.
Root Canals
The phrase root canal is enough to scare off many of our toughest patients. When it comes to root canal therapy, we have good news and bad news. The good news is root canals are actually no more uncomfortable than other restorative treatments like dental crowns or fillings. The bad news is the infection that leads to root canals can be quite painful. If you experience severe toothache or sensitivity to changes in temperature that lingers, you may be experiencing root canal infection, the decay or damage of the innermost layer of teeth. Pulp, the inner layer, houses the entire nerve system of the tooth which may cause severe pain if left untreated. Root canal therapy begins with the drilling of an access hole through which the dental pulp is removed. Once the infected inner tissue is removed, the pain associated diminishes almost immediately. The treated tooth is then refilled and sealed. In most cases, a dental crown is placed over the tooth to protect the repaired structure and provide optimal support.
Partial & Full Dentures
Partial and full dentures allow our team to comfortably replace any number of missing teeth. Partial dentures are composed from a number of replacement teeth set into a gum-colored base. The partials fill gaps in patients' smiles like a puzzle piece and are held in place with metal clasps connected to remaining healthy teeth. Full dentures include a full arch of prosthetic teeth set into a gum-colored base. The malleable base is molded specifically to fit against the gums with natural suction and denture adhesive.
Tooth Extractions
In most cases, we work hard to keep patients' smiles intact, but there are some cases where removing teeth is the only way to preserve oral health. Some situations in which extraction is unavoidable include:
Severe tooth decay that may affect surrounding teeth
Decay that has reached the supportive gum and bone tissues
Wisdom teeth or third molars are the last to erupt in the smile and may lead to a number of oral health concerns, and our team may recommend preventive wisdom tooth removal